Drywall Repair in St. Louis
and Surrounding areas
Servicing the St . Louis metro area since 2007
We specialize in drywall repair specifically so our talents are honed in to provide you a superior finish for your ceiling and/or walls in your home. Our focus is on 2 main aspects, 1) Aesthetics, so the repair is seamless and 2) Longevity, so that the repair lasts as long as possible.
We are a small business that has served St. Louis and St. Charles county's since 2007 and counting.
We have acquired close to 500 reviews in the various review sites with a excellent ratings. 
We provide Drywall Repair in St. Louis and the surrounding areas.
Typical Steps Involved in the Process
Six Reasons For People Choosing Us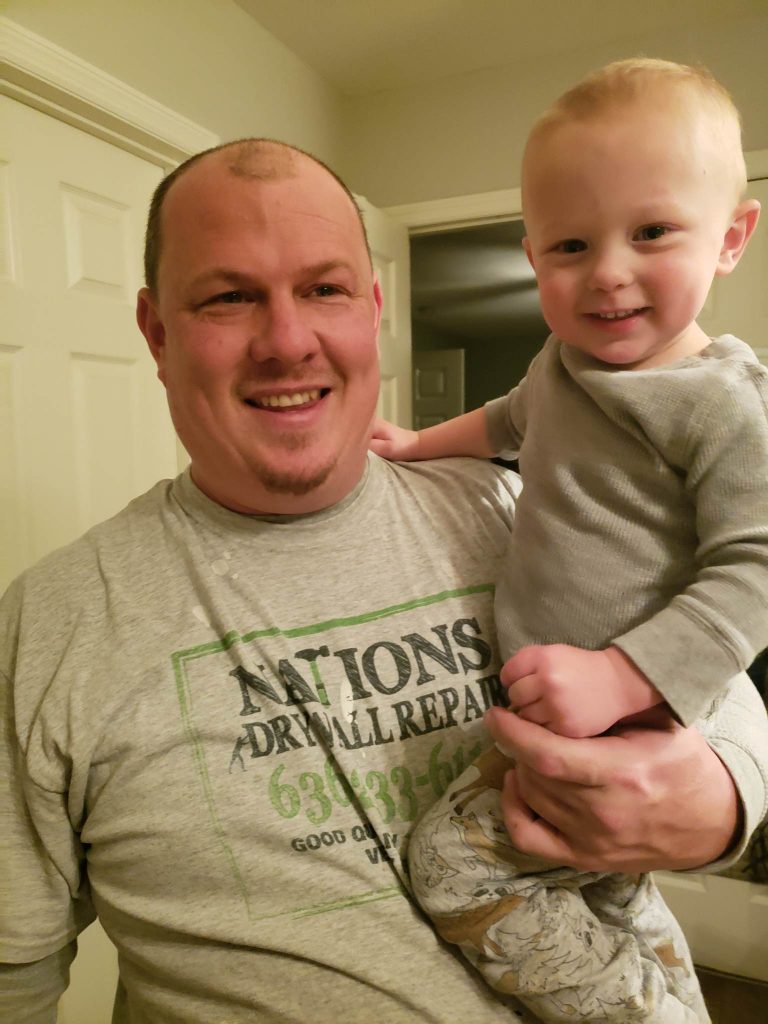 Owner- Richard Nation
Hello, my name is Richard Nation. I am the owner/operator of Nations Drywall Repair. I have been in the drywall field since 2001.

Unlike other drywall hangers and tapers I have been specifically in the drywall repair field as opposed to hanging only or taping only. Starting at the age of 17 in 2001, I worked with a drywall repair company out of Clearwater, FL. until 2006. I saved every penny I could and moved up here to the St.Louis, MO. area to be closer to family.

I started Nations Drywall Repair in 2007 from the ground up. It was tough times as the market was in shambles but God allowing I made it and have been running strong ever since.
How to Properly Repair Drywall
Understanding the basics of drywall repair is pretty simple once you understand the underlying principles.
The 2 main aspects to focus on are Aesthetics and Longevity. Without those 2 main priority's you will have a drywall patch that stands out like a sore thumb and does not last.
Perfecting the aesthetics aspect comes from sheer experience.  "He who does it the most, does it the best" ~ Dad
The Longevity aspect can be explained pretty easily by identifying what causes a drywall repair to go bad prematurely, Moisture and Movement. 
Moisture is a pretty obvious issue so we won't go into much detail on that other than the fact that it should be remedied as soon as possible.
Movement on the other hand is the more interesting aspect and it involves many variables, mainly the house movement and the ground movement.
The ground will become saturated with water in the rainy season and swell up causing the house to move (very minutely), then it will shrink again after the water recedes/drys out. The same concept goes with the materials in the house. Humid months will have the wood and other house materials absorb moisture and expand/warp a little bit, then the dry months cause the material to dry out and shrink. These movements are unavoidable and vary by location and soil type.
A couple other factors are wind gusts/storms, loud music (vibrations), running and stomping (vibrations). There are many more but this paints the picture.
None of these movement sources are in our control but when repairing the drywall we can do things to help stiffen up the repair to help reduce the "local" movement.
By adding wood backing around our repairs and also adding more screws than the original work had, we can make the repairs more rigid and hold up better to movement.
The other procedure that we implement to help the drywall patch last longer is by using Fiber-Mesh tape alongside of Quickset Mud. These 2 products work in conjunction to make the repair more rigid also.
When you combine the added care for longevity and attention to detail that we put into our work, you end up with a drywall patch that does not look like a patch and lasts as long as possible.
Call us if you need your drywall repaired in St. Louis or the surrounding areas.
Don't Know What To Start With?
Get A Solution For Drywall Repair Services
35 Jamaica Dr, St. Peters, MO. 63376